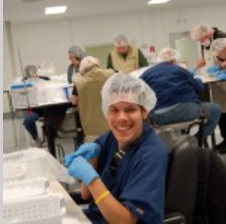 When you purchase Raise Your Elevation gear, you not only claim ownership to a high quality inspirational product, but you can also directly support adults with disabilities.
For some of our printing, we are in partnership with a print shop whose sole mission it is to employ adults with disabilities. And make no mistake, the quality is second to none. By going this route, we are able to closely monitor operations for the highest quality, and at the same time support amazing people who may be otherwise unemployed in the general workforce. These incredible people have amazing talents and wonderful gifts, and they are so excited to be doing what they do. Various challenges prevent them from engaging at workplaces that aren't designed around accommodating special needs, but these folks are able to be part of delivering your high quality Raise Your Elevation gear to you!
At Raise Your Elevation a key component of our mission is to help build more deeply connected communities. By helping support our brothers and sisters with disabilities, we are engaging in what community is all about. So when you sport your Raise Your Elevation gear around town, remember that it's not just a great brand with a great mission, but you have literally helped spread inspiration around the world.
For inquires about the print shop, please use the form below and we would love to tell you more about it: